Install problem for The Pawn on Windows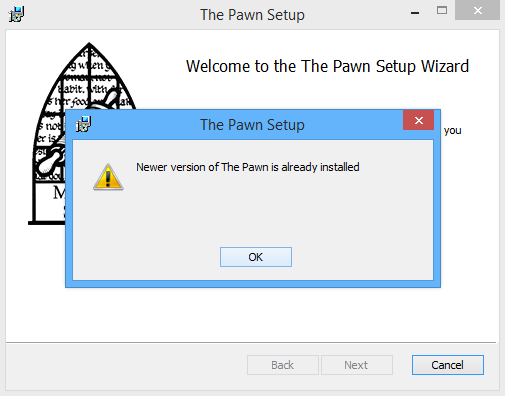 Hi Everyone,
There's a problem with installing both "The Pawn" and "The Guild of Thieves".
THIS IS FOR WINDOWS ONLY!
If you get a message saying "A newer version is already installed", that's the problem. Here's how to solve it;
(1) Download the latest version of "The Guild of Thieves", which is 1.1.2.8
(2) go to control panel and uninstall your existing copy of The Guild
Do not worry, your game progress and saves will not be removed.
(3) install the new version of The Guild.
if you are trying to install "The Pawn", you should perform the above steps for "The Guild" first, and THEN install "The Pawn" as normal.
Hope this helps. If you run into problems, post here OR email me at hugh@strandgames.com and i will help you.
Confession:
The Guild <= 1.1.1.8 had the same internal microsoft product upgrade key as The Pawn. It has a unique product id, but the installer gets confused with the upgrade key. fixed for >= 1.1.2.8
This only affects Windows!
Sorry for the confusion.