I thought I'd post a quick update on progress with the remastering of The Guild of Thieves.
Although things have seemed a bit quiet around here, in reality, a lot of activity is going on back here remastering The Guild.
For a start, we've made a new map layout that we think is an improvement over existing published maps. This version has been arranged to improve spatial correctness and to make the best compromise of up/down connections, as well as show dark areas as slightly shaded. Nevertheless, it's still not final. I'm hoping to add markers to show up and down exists.
The map of The Guild is much larger than The Pawn, here's just an excerpt;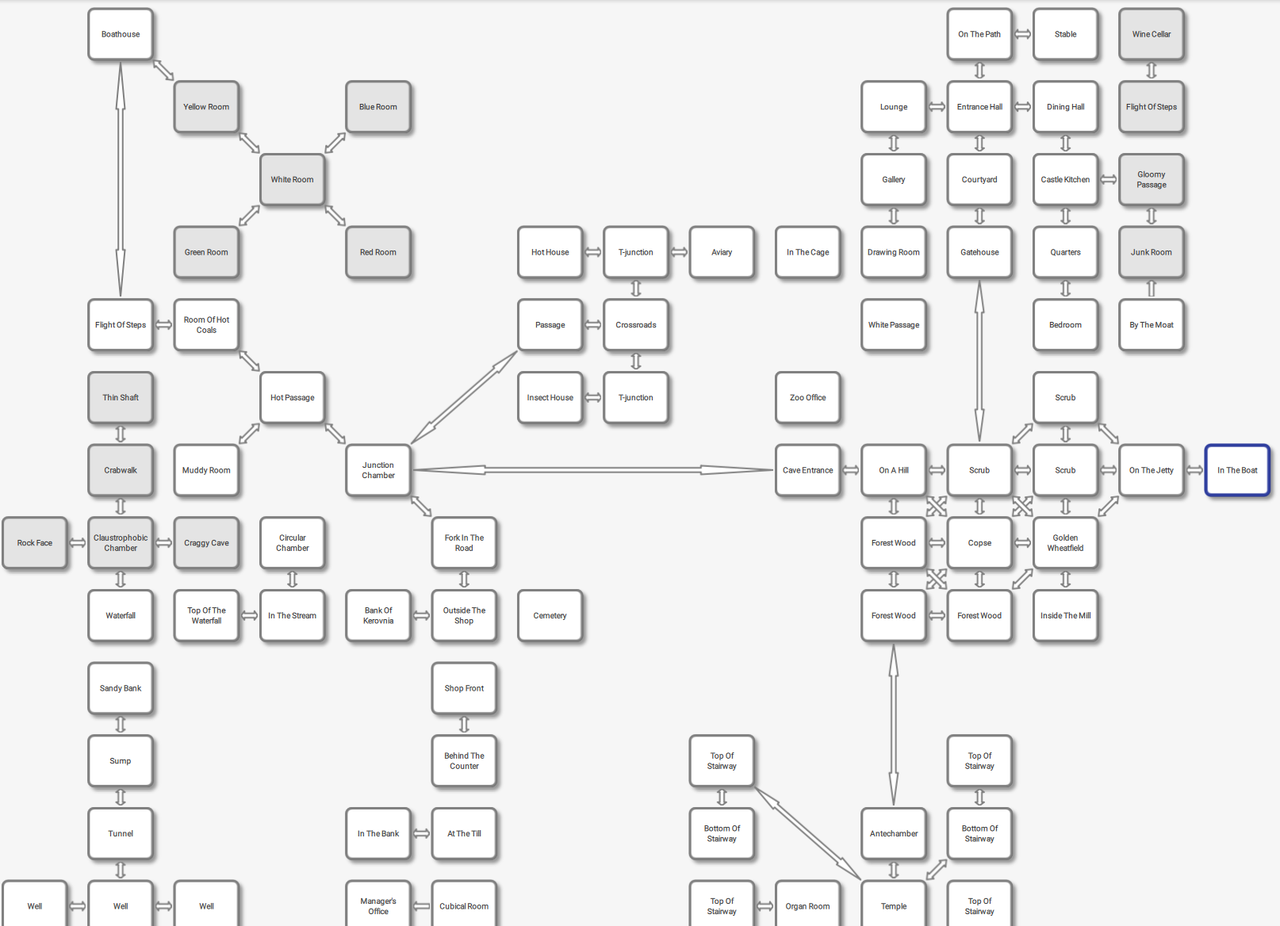 Many of the puzzles are being enhanced for modern mode. For example an improved implementation of "swim" has been added, transplanted from a later codebase. The game is playable in both modern or classic modes, the latter being as close to the original as possible.
Bugs in the original game have been discovered and fixed!
Additional system features planned:
word suggestion for text input.
command echo tidy up.
add up/down to map and screen compass.
animated pictures!
We're rebuilding the game code itself from the original Magnetic Scrolls source code (the collection edition), which has been an enormous step forward. There's just no way we could be making these improvements, fixes etc. without it.
It's why we couldn't fix some of the problems with The Pawn, but with the source code, a lot of cool stuff can now be done.
In addition, we're making new digital versions of the original "feelies". Stefan has scanned a new high-resolution version of "What Burglar" magazine. We're also remaking a new, graphic version Guild "credit card" that we hope to add to the game.
So there's a lot going on!
Although i can't name a date yet, I'm really hoping we can have a beta of The Guild out in the near future for you guys to try out.
As always, feedback and suggestion are always most welcome.